For any man or group of men to legislate a different code is tantamount to calling good evil and evil good and makes a mockery of Yahweh's law.

How do ye say, We are wise, and the law of YHWH is with us? Lo, certainly in vain [Strong's, a sham] made he it; the pen of the scribes is in vain. The wise men … have rejected the word of YHWH; and what wisdom is in them? (Jeremiah 8:8-9)
In order to protect the Constitution from Biblical condemnation, some Constitutionalists attempt to neutralize its moral implications:

The Constitution is full of moral and ethical issues, which will be demonstrated throughout this book. It was impossible for the constitutional framers to have created a morally neutral document. Legislation is never morally neutral. Worse, calling good evil and evil good (as the Constitution repeatedly does) is itself a claim to divinity. One of the attributes of God is the authority to define and legislate good and evil (Genesis 2:16-17, 3:5). Because there is only one true God, there is only one standard for what is good and evil. Anyone who attempts to change His definitions is usurping His place as God. "[T]he other gods about whom we must be concerned are, as they ever have been, to be found in the seats of temporal, or human, government."7 This is what Jesus,8 in Matthew 23:2, depicted as fraudulently sitting "in Moses' seat."

Legislative Power
Article 1 begins, "All legislative powers herein granted…." Granted by whom? You will look in vain to find any reference (inside or outside the Constitution) in which the framers affirmed the government's legislative powers were granted by Yahweh. Neither did they ever affirm the laws of Yahweh:

And yet the men at the Philadelphia convention are lauded for their disregard for Yahweh and His law. Any attempt to legislate outside Biblical parameters is sedition against Yahweh. To usurp a legislator's power is to dethrone him:

David Barton audaciously declared the Constitution as the people's standard for judging political principles:

The primary and only standard of measurement for any political or lawful code always has been and always will be Yahweh's morality as found in His commandments, statutes, and judgments. When have people ever been entrusted to judge matters already adjudicated by Yahweh?

If you do not believe the people love to have it so, try challenging the validity of the Constitution.

The legislation agreed upon by the framers and authorized by the Constitution is frequently inconsonant with and antagonistic to Yahweh's law:

If we believe all morality originates with Yahweh, then we must conclude any law that adds to or subtracts from His law represents lawlessness, unrighteousness, and immorality. Because Yahweh is the sole legislator, only His legislation is law. Any attempt to make laws contrary or in addition to His laws is ultimately futile, as demonstrated by the fickle propensity of constitutional "legislators":

Consider again one of the two Supreme Court decisions cited in the previous chapter:

Marbury v. Madison (1803)
This ruling was based upon Article 6's declaration that "this Constitution, and the laws of the United States which shall be made in pursuance thereof; and all treaties made, or which shall be made, under the authority of the United States, shall be the supreme law of the land…." If you are a Constitutionalist, you must consider any law contrary to the Constitution – including Biblical law – to be null and void. This was evidenced when Ron Paul was asked in an interview by John Lofton if he believed "homosexuality … [is] a sin?" Paul responded:

When Lofton asked, "Do you believe that God says it's a sin?" Paul responded:

Anyone who knows Paul's record knows that if the Constitution condemned sodomy, he would have unabashedly condemned sodomy as well. Yet he would not even acknowledge that Yahweh declares sodomy a sin. Why? His god is WE THE PEOPLE, and because the Constitution is his god's law, it trumps all other law.

On the other hand, if you are a Christian14 and Yahweh is your God, then any law repugnant to Yahweh's law, including the Constitution, is not law but lawlessness. Whether we see it this way or not, Yahweh certainly does.

The usurpation of Yahweh's law by the constitutional framers was essentially admitted to by President Ronald Reagan in his 1987 State of the Union Address:

Instead of taking orders from Yahweh, most Americans take their orders from WE THE PEOPLE or, more precisely, from their legislators and ultimately from the Supreme Court Justices.

Section 2, Clause 1
Extra-Biblical "Laws"
Yahweh is the only lawgiver, His law is perfect, and nothing found in Article 1, Section 2, Clause 1 could improve upon it:

Section 2, Clause 1 is the first of many needless legislative additions found throughout the Constitution. It is also the first constitutional provision mandating public slavery to a congress that has the power to make "laws," not only in addition to, but also in contradiction to Yahweh's laws. Since the Constitutional Convention, Congress has consistently legislated contrary to Yahweh's morality. This incessant supplanting of Yahweh's law will continue until Americans recognize and repent of their constitutional idolatry.

House of Representatives
Some Constitutionalists argue that the concept of representative government originated with Moses:

Nowhere in the framers' copious convention notes, the Federalist Papers, or anywhere else in their writings, do we find any indication that the idea for the House of Representatives was inspired by Exodus 18:25. Christian Constitutionalists apply Exodus 18:25 to this section of the Constitution to give it an aura of Biblical authority. But Moses' charge has nothing to do with representatives of the people. As proven by its context, it is a provision for judges – representatives of Yahweh:

It is, in fact, a violation of Yahweh's law for rulers to respect (represent) the people, regardless their numbers, rank, or for any other reason:

Section 2, Clause 2
These are the only qualifications required to be a representative of the people. Is it any surprise that "no man's life, liberty, or property is safe while the legislature is in session"? Article 6's federal ban on religious tests eliminated any possibility of the Biblical qualifications being utilized to determine whether a candidate is qualified and competent to fill a leadership position. (See Chapter 5 "Article 2: Executive Usurpation" for a list of Biblical qualifications for public service.) Without Biblical qualifications, the representatives (also senators, presidents, and judges) voted or appointed into office are not likely to be any better than the leaders described by Micah:

Only one qualification in Section 2, Clause 2 agrees with Yahweh's law – the age requirement of twenty-five. Numbers 8:24-25 stipulates that the Levite layman (the civil servants of that day, not to be confused with the Levitical priests for whom age limitations did not exist) were to begin their service at the age of twenty-five and complete it at the age of fifty. However, we find no indication that the minimum age requirement for Representatives was inspired by Numbers 8:24-25.

Section 2, Clause 3
Decennial Census
This is the origin of the unlawful decennial census, which has been exploited to pry into every household's private affairs.

If such a census were necessary, we would find it provided for in Yahweh's perfect law. The only census Yahweh authorized is for men of military age:

This census was abused by King David with grave consequences:

The Constitution's decennial census is not forbidden in the Bible, but neither was David's. Something does not necessarily have to be forbidden to be outside Yahweh's law.

Bible readers often wonder, "Why were the people judged instead of David?" The people, in their apathy, did nothing to contravene David's unlawful act – just as Americans did nothing in the late 1700s when a handful of men claimed for the people an authority and justice that originated with themselves:

In 1 Samuel 14:44-45, when King Saul intended to kill his son Jonathan, the people repudiated his work of darkness, just as late 18th-century Americans should have done with the Constitution. 2 Kings 20 provides precedent for opposing an unbiblical census:

Although not a formal numbering of the people, Hezekiah's disclosure sounds all too similar to undiscerning, government-obedient Christians at census time. Is Yahweh pleased with such indiscriminant disclosure?

Nowhere was Hezekiah forbidden to divulge particulars about his family and his possessions to the Babylonians, but he was judged for his indiscretion nonetheless.

Section 2, Clause 5
Impeachment finds implicit Biblical precedent in its qualifications for civil rulers. However, the House of Representatives' "sole power of impeachment" has no basis in the Bible. This power of self-discipline, indicative of a good ol' boys' club, has been employed only once in over 220 years (in the case of Senator William Blount on July 8, 1797), despite the fact that almost everyone in the House of Representatives deserves impeachment. Even Charlie Rangel, with his numerous ethics violations, did not rate an impeachment in 2010. Except in the rarest instances, the members of the House are not about to turn on one another for fear that they, in turn, will be devoured by one another.

The Biblical power for removing a judge from his bench is to be impartially enforced whenever a judge breaches the Biblical qualifications, as stipulated in Exodus 18:21; Deuteronomy 1:13-17, 17:15-19; 2 Chronicles 19:5-8; Romans 13:1-4; 1 Corinthians 6:1-5; 1 Timothy 3:1-13; and Titus 1:5-9.

Section 3, Clause 1
The Senate
The Senate is no more Biblical than is the House of Representatives. Patrick Henry had very little good to say about the Constitution's proposed Senate and its lack of accountability:

Limited Government
A senate further enslaves the people to a gargantuan federal government, which must be paid for with tax dollars. Constitutionalists, Libertarians, and even Republicans are often heard discussing the idea that limited government was an objective of the framers. It is true that government was much more limited in the late 1700s than it is today. But do not believe for a minute that the Constitution provided us with limited government, even in the late 1700s. A government consisting of a president, vice president, House of Representatives, Senate, and judiciary can hardly be described as limited. When the framers threw away America's Christian theocracy in exchange for the United States' secular theocracy, they also cast aside limited government.

With some rare exceptions, Yahweh's government consists of only one King and Legislator – Yahweh – and a judiciary to litigate His commandments and statutes and enforce His judgments. That is limited government. Yahweh's government has no need for a president and his cabinet, no need for the House of Representatives or the Senate and their glutted bureaucracy, no need for a prison complex, no need for a parasitical welfare system, no need for the Federal Reserve, no need for the Internal Revenue Service, and no need for a tax-subsidized standing army. Constitutionalists want to abolish nearly everything enumerated here, but they would have us "return" to the very document that permitted these excesses and robbed us of a truly limited government.19

Section 3, Clause 3
The arbitrary age requirement of thirty years cannot be found in the Bible.

Section 3, Clause 4
No Biblical precedent exists for a vice president. If we have no need of a president, we certainly have no need of a vice president. (See Chapter 5 "Article 2: Executive Usurpation" for additional information regarding the superfluous positions of president and vice president.)

In such instances, instead of determining the future or fate of the nation upon Yahweh's perfect morality as stipulated in His law, the Constitutional Republic relies on the integrity of one finite man, whose deciding vote has often been in contempt of Yahweh's morality.

Section 3, Clauses 6-7
The Senate, like the House of Representatives, is a part of the good ol' boys' club that protects its own in order to protect itself. President Bill Clinton, who was convicted of the misuse of his high office in the obstruction of justice and of perjury before both grand and civil juries, was impeached by the House of Representatives, but the Senate refused to convict him. It is tragic that our forefathers did not heed Patrick Henry's advice:

Section 6, Clause 1
Originally, Congressional salaries were $6 per day while in session. By 1815, Congressmen received $1,500 annually, and, by 1968, their annual salaries had been raised to $30,000. The current salary for Senators and Representatives is $174,000. The Speaker of the House receives $223,500, and the Majority and Minority Leaders each receive $193,400. Every year, Congressmen and Senators receive an automatic cost of living adjustment (COLA). Additionally, every member in the Senate and House receives an allotment for office expenses, which includes staff payroll and traveling expenses. This amounts to approximately $1 million per office. The current annual Congressional expenditure is $626,103,500, and this does not account for the many other financial perks22 and the lavish retirement plans received by former Congressmen and women and their spouses:

A return to Yahweh's government, in which a Senate and House of Representatives is superfluous, would eliminate this heavy tax burden altogether.

Section 7, Clauses 1-2
Any legislation in agreement with Yahweh's law is already law and does not need man's ratification to validate it. Any legislation not in agreement with Yahweh's law is simply legalized immorality because "what is morally wrong cannot be made legally right."24

The Constitution authorizes a simple majority in the Senate and House or, if vetoed by the President, a two-thirds majority to make anything "law" – including infanticide and the protection and promotion of sodomy. That the federal government does not have jurisdiction to legalize infanticide and sodomy is technically true. However, this does not change the fact that it did legalize these and other abominations. Libertarian attorney Lysander Spooner (1808-1887) wrote that the Constitution "has either authorized such a government as we have had, or has been powerless to prevent it."25

That Sundays are an exception in the Constitution's ratification process is not proof that the Constitution is a Christian document. It merely recognizes that presidents are not likely to do business as usual on Sundays. Sundays were exempted in the ten day count to provide presidents a full ten days to consider any bill put before them.

Section 8, Clause 1
Power
This Clause begins, "The Congress shall have power…." From where is this power derived? From a temporal perspective, this power comes from the god WE THE PEOPLE. Ultimately, it comes from Yahweh. The Prophet Daniel wrote that Yahweh "ruleth in the kingdom of men, and giveth it to whomsoever he will, and setteth up over it the basest of men" (Daniel 4:17). Jesus told the Roman governor Pontius Pilate that "thou couldest have no power at all against me, except it were given thee from above" (John 19:11). However, although all power or authority originates with Yahweh, this does not mean He approves all authority:

Are we to believe the omniscient, sovereign God did not know what these rebellious Israelites were doing? Rather, their rulers were set in positions of authority without Yahweh's favor. This is no different from Yahweh's telling Samuel to give the Israelites the earthly king they desired in 1 Samuel 8, despite the fact that in so doing they were rejecting Him as their King.

No government can exist without Yahweh's allowing it. But two different types of government exist for two different types of people. Nations that submit to Yahweh's Word are blessed with just and righteous rulers. Nations who rebel against His Word are visited with oppressive rulers for the purpose of bringing them to submission:

Power to Unfairly Tax
Some people believe the Constitution's authority to tax is implied in Romans 13:

Many ministers have turned this passage into "a sword of oppression rather than a shield from tyranny."26 If one ignores the context, it does appear that all governments have the right to tax their citizens and that Christians are obligated to pay any and all taxes. But this interpretation can only be defended if verses 3 and 4 are ignored. In verse 6, we are told, "for this cause pay ye tribute." In other words, for the specific cause mentioned in the previous verses:

The Apostle Paul was explicit about the type of rulers to whom he was referring. Three times in five verses he identified them as ministers or servants of Yahweh who do good to the righteous and strike fear into the hearts of the wicked. Does this description apply to everyone working in government today? Does this description apply to anyone in government today? Just as respect and honor are not due to everyone, neither are taxes due to someone just because he claims them. Are taxes due to those who legislate and finance pornography, sodomy, and infanticide? Are taxes due to those who conspire to disarm law-abiding citizens and who promote an antichrist New World Order?

Because Article 6 bans Biblical qualifications for public officials, it was inevitable that evil men (the opposite of those described in Romans 13) would one day sit in the "seat of Moses" here in America. In paying government officials who do not fit Paul's description, we finance our own destruction:

In 1749, Pastor Jonathan Mayhew concurred in a sermon preached from Romans 13:

Renowned Bible Commentator Adam Clarke also commented upon Paul's intent:

Even Thomas Jefferson declared that no one should be forced to underwrite immoral legislation:

Furthermore, nowhere in the Constitution is a limit imposed on taxation. This greatly concerned Patrick Henry and Luther Martin:

Henry's and Martin's33 concerns were prophetic. This "unlimited and unbounded power of taxation" – what today might be described as womb-to-tomb taxation – has become a reality. Biblical tax, on the other hand, is fixed at ten percent of a person's increase. Under Yahweh's economic system, only those who can afford it are taxed. No one would ever be encumbered with income or property tax. These egregious taxes, and others, are addressed in Chapter 25 "Amendment 16: Graduated Income Tax vs. Flat Increase Tax.".

Christians should gladly pay a tithe of their increase to a government that does good works, supports the righteous, and brings wrath (judgment) upon the wicked. In fact, we are explicitly charged to do so. However, because the Constitution is antithetical and antagonistic to Yahweh's morality, the United States Constitutional Republic is disqualified as the type of government described by Paul in Romans 13.

Section 8, Clause 2
Power to Economically Enslave
The United States government was in debt from its inception:

Because borrowing money was perceived as necessary since the ratification of the Constitution, the United States government has been under the curse of Yahweh from its inception. One of Yahweh's blessings is the ability to lend; one of His curses is the necessity of borrowing:

Put simply, the Constitution provides for the monetary enslavement of the people of the United States of America. Because Americans chose a government that represented themselves, our present economic woes were inevitable:

Shortly after his appointment as the United States' first Secretary of Treasury, Alexander Hamilton funded the new economy with borrowed money. Five months later, James Jackson, the first congressman of Georgia, predicted our present-day economic quagmire:

Yahweh's law does not permit government borrowing. According to Deuteronomy 28:43-44, having to borrow from other nations is a curse for failing to follow Yahweh's commandments, statutes, and judgments. In Deuteronomy 15:1-11, Yahweh limits private debts to seven years, which results in the following blessings:

R.J. Rushdoony described the subterfuge involved in the promise of a balanced budget under constitutional government:
Debt invariably enslaves future generations as well:

Circa 1988, the United States of America became the world's greatest debtor nation. At the end of 2007, the United States national debt was $8.7 trillion and growing by $600 billion a year. To float our economy, we borrow approximately $2 billion daily from foreign investors. It is estimated that every man, woman, and child in the United States would have to shell out $49,000 to pay off the United States' current debt.

Section 8, Clause 3
Power to Contract With Non-Christian Nations
Clause 3 contains no stipulation for commerce with only Christian nations, as required under Yahweh's law:

Section 8, Clause 3 paved the way for the General Agreement on Tariffs and Trade (GATT), the North American Free Trade Agreement (NAFTA), the North American Union (NAU), and other disastrous unbiblical trade agreements:

These passages also rule out any kind of foreign aid to non-Christian nations. To provide financial assistance to pagan nations may be a contravention of Yahweh's judgment of financial impoverishment on an ungodly or idolatrous nation. No amount of money can bail out a nation under Yahweh's judgment.

Section 8, Clause 4
Power to Unlawfully Integrate
In disregard of Yahweh's laws of segregation, the framers' vague language regarding naturalization and citizenship opened the door to integration, multiculturalism, and pluralism. (See Chapter 22 "Amendment 13: Constitutional vs. Biblical Slavery" for additional information regarding Biblical laws concerning segregation, and Chapter 23 "Amendment 14: First-Birth vs. Second-Birth Citizenship" for additional information regarding constitutional versus Biblical citizenship.) This, in turn, has led to advocates of gods other than Yahweh ruling over us and legislating additional "laws" contrary to Yahweh's. (See Chapter 24 "Amendment 15: Colorblind Voting" for additional information regarding the consequences of integrated elections.)

Power to Implement Unbiblical Bankruptcy Regulations
In Deuteronomy 15:1-11, the Fourth Commandment's sabbatical year provides a seven-year bankruptcy provision, by which those unable to meet their financial obligations can be forgiven their debt. However, because the framers disregarded this Biblical provision, unbiblical bankruptcy regulations have been implemented in its place.

Section 8, Clause 5
Power to Fix Unjust Weights and Measures
Yahweh's law is specific regarding money and its standard of weights and measures. Any empowering of Congress to do the same was redundant, at best:

Granting this power to Congress gave them the means to corrupt this Biblical provision:

The divine power to impute value to paper currency (creating something out of nothing) is additional evidence that WE THE PEOPLE, as represented by Congress, has usurped Yahweh as God. Because the United States economic system is based on nothing more than faith, it is essentially a religion. Once the populace figures out the worthlessness of their Federal Reserve Notes and stops believing in them, the economic system will collapse. Ominous signs indicate this inevitability may not be far off.

Section 8, Clause 7
Power to Establish Monopolies
Monopolies are often misunderstood:

When government legalizes a monopoly, it discriminates against, restricts, and even prohibits others from making a lawful living by the same means. Put simply, government-created monopolies are organized theft. The following passages condemn monopolies, in principle, including the United States Postal Service and the government's ownership of America's highway system:

The establishment of the Postal Service was the first act of Congress by which unbiblical monopolies were authorized. The Postal Reorganization Act of 1970, also known as Public Law 91-375, changed the Postal Service into a self-supporting corporation owned by the federal government. Government has no business owning anything. Deuteronomy 19:3 provides for vital roads to be built (in this instance, to and from the cities of refuge), but it does not designate by whom. Because all land is to be held privately, it stands to reason that the roads are also owned privately and either opened to the public free of charge or operated as toll roads.

Section 8, Clause 11
Power to Engage in Unlawful Warfare
The power to declare war is a serious responsibility. Why were the framers so vague in defining the parameters of war and the conditions under which it could be declared? Section 8, Clause 11 is the only place of significance where warfare is mentioned in the Constitution. Little wonder this power has been abused. Luther Martin protested:

John Quincy Adams predicted the consequences of America's international military entanglements:

Because the framers provided no Biblical parameters, unbiblical warfare has been the rule ever since. Following is a list of the countries bombed by the United States since World War II:

From 1945 to the present, the United States has bombed nineteen different countries under the guise of defending America's sovereignty and promoting democracy. But America is none the better for it, and not one of these countries has become a legitimate democracy – not that this would be anything to celebrate. Something is amiss. Wars fought for political gain or financial profit can only be classified as ungodly acts of aggression. It would be prudent for today's presidents to learn from Kings Josiah's and Amaziah's tragic mistakes. Although they were both acclaimed as godly men by Yahweh, Josiah was killed (2 Chronicles 35:21-24) and Amaziah (2 Kings 14:8-14) was taken captive for their wars of aggression.

We often hear that we need to "fight them over there so we won't have to fight them over here." But fighting alleged enemies "over there" has not made American any safer and, in some instances, such acts of aggression have made America less safe.
Without the constitutional power to borrow, these and all subsequent ungodly wars could have perhaps been averted.

Biblical Warfare
Certain acts of warfare are Biblically justified. On numerous occasions in the Old Testament, Yahweh commanded His people to initiate war against ungodly nations. His law requires every able Israelite man, twenty years and older, to prepare for armed service:

This describes an autonomous militia, not a national standing army, national service, or military draft. Under King Saul, ancient Israel gave up this autonomy for a centralized standing army. The Constitutional Republic's standing army is part of the curse Yahweh warned the Israelites would accompany their enthronement of an earthly, human king:

Our young men and women have been taken and often sacrificed by today's military industrial complex. United States citizens are financing the destruction of their own sons and daughters in ungodly conflicts. It is often implied that if your country calls, it is your duty to serve regardless the cause. However, Yahweh prescribes strict rules of warfare for His people:

These and other Biblical rules of warfare determine the righteousness of a war. Untold numbers of people have been killed in wars fought in the name of Christianity, but few of these wars were Christian. If a military conflict waged in the name of Christianity is not Biblical, it is not Christian. More often than not, it is the departure from the Biblical rules of warfare that is responsible for the unjustified deaths in these "holy" wars.

Most Christians are oblivious to the United States' unbiblical warfare tactics, including the indiscriminate Agent Orange defoliation policy in Vietnam and the attack upon Iraq after George W. Bush spurned Saddam Hussein's peace offering. Only conflicts waged in legitimate defense of one's homeland are justified and godly. Christians must be cautious about sending their children to fight in America's military conflicts. Not only might their children be sacrificed for an unrighteous cause, Yahweh might very well consider soldiers in such campaigns to be murderers or accomplices to murder.

Section 8, Clause 15
Power to Provide and Call Forth a Militia
Except for the phrase "execute the laws of the union," the Constitution has finally provided something compatible with the Bible: a militia composed of able-bodied men for the defense of themselves, their families, their communities, and their nation.42 However, Patrick Henry found good reason for concern with Congress' control over the militia:

Section 8, Clause 18
Power to Unlimited Legislation
Do not miss the open-ended legislative power granted Congress. Despite the Constitutionalists' claims to the contrary, today's government is constitutional. Nearly every "law," which has and will be made, was made possible by this Clause. It might even be argued that this includes the much contested Fourteenth and Sixteenth Amendments. Although there are legitimate constitutional concerns regarding the manner by which both of those Amendments were passed, they have been accepted by every subsequent Congress, making them, in effect, constitutional law. That this Clause granted Congress almost unlimited power is proven in that it was vigorously contested for this very reason:

This power was already inherent in the Constitution, even without this Clause:

Without the parameters of Yahweh's morality as found in His commandments, statutes, and judgments, Section 8, Clause 18 becomes an open door to legislate almost anything. It places legislative decisions at the personal discretion (or indiscretion, as the case may be) of the Legislative and Judicial branches of the federal government.

Section 9, Clause 1
Power to Profit from Slavery
This Clause was rendered obsolete on January 1, 1808, when Congress prohibited all further importation of slaves. However, slavery was nonetheless constitutionally legal for nearly twenty-one years with the proviso that a tax be imposed upon the sale of slaves. Although the Bible allows certain forms of slavery (see Chapter 22 "Amendment 13: Constitutional vs. Biblical Slavery"), it does not provide for a slave market from which government can profit. It is sometimes argued that because political changes do not occur overnight, the framers could not abolish such a longstanding institution immediately. This is probably true, but this argument does not justify the Constitution's provision to profit from it.
Section 9, Clause 2
Habeas Corpus vs. Witnesses
Habeas corpus (Latin for "we command that you have the body" or "show the body") is meant to protect individuals against arbitrary government prosecution. In order to hold and prosecute an indicted criminal, plausible evidence must exist. However, with the exception of treason, the Constitution does not specify the nature of credible evidence. Yahweh's law, on the other hand, requires every indictment to be based upon the testimony of two or more credible witnesses (among other things46):

Conclusion
Psalm 19:7-11 declares that Yahweh's commandments, statutes, and judgments are more desirable than gold. The framers obviously did not desire them because they replaced them with their own edicts.

Because Yahweh's law is perfect, endeavors to improve upon it, via human legislators, are attempts to dethrone our King and commandeer His throne. This is what happened in the Garden, at the Tower of Babel, and when the people chose Saul over Yahweh as their king. It is what has been attempted every time our forefathers rejected Yahweh's laws and chose man's laws to replace them.

In a lecture entitled "Law: The Biblical Foundations," constitutional attorney Herb Titus compared forming a government to building a ship:

Too bad Titus did not apply this same standard to the Constitution.

The movie The Ten Commandments contains a personal introduction by director Cecil B. DeMille, in which he made a statement that is politically and, in many churches, religiously incorrect today:

Few people believe Yahweh has the monopoly on legislation. If Christians truly believed Isaiah 33:22, they would refuse to use the word "legislators" for yesterday's constitutional framers or today's senators and representatives. They certainly would not regard the unbiblical decrees of these "legislators" as law.

---
Click Here to Read Chapter 5
---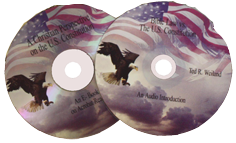 Click to order the Bible Law vs. The United States Constitution CDs:
The e-book (on CD) A Christian Perspective on the U.S. Constitution

The audio CD The Bible vs. The U.S. Constitution (Pts. 1 & 2)
1. Gideon J. Tucker, New York Surrogate Reports (New York, NY: New York Surrogate, 1866), p. 249, quoted in Suzy Platt, ed., Respectfully Quoted: A Dictionary of Quotations (New York: NY: Barnes & Noble, 1992) p. 198.
2. Noah Webster, American Dictionary of the English Language, s.v. "Legislator" (1828; reprint ed. San Francisco, CA: The Foundation for American Christian Education, 1967).
3. Where the Tetragrammaton (YHWH) – the four Hebrew characters that represent the personal name of God – has been unlawfully rendered the LORD or GOD in English translations, I have taken the liberty to correct this error by inserting YHWH where appropriate. For a more thorough explanation concerning the use of the sacred names of God, "The Third Commandment" may be read online, or the book Thou shalt not take the name of YHWH thy God in vain may be ordered from Bible Law vs. The United States Constitution, PO Box 248, Scottsbluff, Nebraska, 69363, for a suggested $4 donation.*
4. All Scripture is quoted from the King James Version, unless otherwise noted. Portions of Scripture have been omitted for brevity. If you have questions regarding any passage, please study the text to ensure it has been properly used.
5. YHWH (most often pronounced Yahweh) is the English transliteration of the Tetragrammaton, the principal Hebrew name of the God of the Bible. For a more thorough explanation concerning the sacred names of God, "The Third Commandment" may be read online, or the book Thou shalt not take the name of YHWH thy God in vain may be ordered from Bible Law vs. The United States Constitution, PO Box 248, Scottsbluff, Nebraska 69363, for a suggested $4 donation.*
6. Gary DeMar, "Says Who?," Biblical Worldview (Powder Springs, GA: American Vision, March 2003) vol. 19, num. 3, p. 7.
7. T. Robert Ingram, The World Under God's Law (Houston, TX: St. Thomas Press, 1981) p. 33.
8. Yeshua is the English transliteration of our Savior's given Hebrew name, with which He introduced Himself to Paul in Acts 26:14-15. (Jesus is the English transliteration of the Greek Iesous, which is the Greek transliteration of the Hebrew Yeshua.) Because many people are unfamiliar or uncomfortable with Yeshua, I have chosen to use the more familiar Jesus in this book in order to remove what might otherwise be a stumbling block. For a more thorough explanation concerning the use of the sacred names of God, "The Third Commandment" may be read online, or Thou shalt not take the name of YHWH thy God in vain may be ordered from Bible Law vs. The United States Constitution, PO Box 248, Scottsbluff, Nebraska 69363, for a suggested $4 donation.*
9. Richard Mosier, The American Temper (Berkeley, CA: University of California Press, 1952) p. 70.
10. David Barton, Original Intent: The Courts, the Constitution, & Religion (Aledo, TX: WallBuilder Press, 2005) p. 339.
11. W.W. Turner, The Amazing Story of the British Sovereign (Nashville, TN: 1970) p. 4, quoted in Rousas John Rushdoony, The Institutes of Biblical Law (The Presbyterian and Reformed Publishing Company, 1973) p. 644.
12. Ron Paul's answer "it's too complex to me" was similar to Barack Obama's equivocating response to Rick Warren's question, "At what point does a baby get human rights?" Obama responded, "To answer that question with specificity is above my pay scale."
14. Not everyone claiming to be a Christian has been properly instructed in the Biblical plan of salvation. Mark 16:15-16; Acts 2:36-41, 22:1-16; Romans 6:3-4; Galatians 3:26-27; Colossians 2:11-13; and 1 Peter 3:21 should be studied to understand what is required to be covered by the blood of Jesus and forgiven of your sins. For a more thorough explanation concerning baptism and its relationship to salvation, the book Baptism: All You Wanted to Know and More may be requested from Bible Law vs. The United States Constitution, PO Box 248, Scottsbluff, Nebraska 69363, for free.
16. H.B. Clark, Clark's Biblical Law (Portland, OR: Binfords & Mort, 1943) p. 66.
17. The phrase "chosen by the legislature thereof" was changed by Amendment 17, Section 1 to "elected by the people."
18. Patrick Henry, Ralph Ketcham, ed., "Speeches of Patrick Henry (June 5 and 7, 1788)," The Anti-Federalist Papers and the Constitutional Convention Debates (New York, NY: Penguin Books, 2003, 2nd ed.) pp. 213-14.
19 In addition to Biblical judiciary, there would also need to be Biblically qualified men who would be responsible for applying Yahweh's law to arising situations: "Perhaps it would be more appropriate to refer to legislators as 'law finders' [or applicators] rather than 'law makers.' This would signify that their primary task is to search the Word of God for divine law on which to model the laws of the nation." Dennis Woods, Discipling the Nations: The Government Upon His Shoulder (Franklin, TN: Legacy Communications, 1996) p. 8.
22. "Salaries for members of congress, Supreme Court Justices, and the President," National Taxpayer's Union, Click for Link.
24. Abraham Lincoln, quoted in H.B. Clark, Clark's Biblical Law (Portland, OR: Binfords & Mort, 1943) p. 33.
28. Jonathan Mayhew, "A Discourse Concerning Unlimited Submission and Non-Resistance to the Higher Powers," quoted by John Wingate Thornton, The Pulpit of the American Revolution: Political Sermons of the Period of 1776 (New York, NY: Da Capo Press, 1979) pp. 77-78.
29. Adam Clarke, Clarke's Commentary, 6 vols. (New York, NY: Carlton & Phillips, 1853) vol. 6, p. 147.
30. Thomas Jefferson, preamble to the Virginia Bill for Establishing Religious Freedom, 1789.
32. Luther Martin, Jonathan Elliott, ed., The Debates in the Several State Conventions, on the Adoption of the Federal Constitution, 4 vols. (Washington, DC: Jonathan Elliott, 1836) vol. 1, p. 368 .
33. Patrick Henry refused to attend the Constitutional Convention, saying he "smelt a rat in Philadelphia." Luther Martin became disillusioned and left the Convention without putting his signature to the document.
34. Richard C. Cook (a former U.S. federal government analyst), "A Master-Slave Society: Democrats in Denver Should Skip One of Their Parties and Read the American Monetary Act," http://www.marketoracle.co.uk/Article5992.html.
35. James Jackson, Annals of Congress, Volume 1, February 1790, pp. 1141-42.
36. Rousas John Rushdoony, The Nature of the American System (Vallecito, CA: Ross House Books, 1965/2001) p. 169.
41. John Quincy Adams, quoted in William H. Seward, Life and Public Services of John Quincy Adams (New York, NY: C.M. Saxton, Barker & Co., 1860) p. 132.
43. Patrick Henry, quoted in William Wirt, Sketches of the Life and Character of Patrick Henry (Ithaca, NY: Andrus, Gauntlett, & Co., 1850) p. 195.
44. Israel Ward Andrews, Andrews Manual of the Constitution (Cincinnati and New York: Van Antwerp, Bragg & Co., 1887) pp. 132-33.
47. Herb Titus, "Law: The Biblical Foundations," Disc 2, God, Man, & Law: The Biblical Principles (Powder Springs, GA: The American Vision, 2007).
48. Cecil B. DeMille, The Ten Commandments, Paramount Pictures, Hollywood, 1956.
*We are admonished in Matthew 10:8 "freely ye have received, freely give." Although there is a suggested price for our books, we do not sell them. In keeping with 2 Corinthians 9:7, this ministry is supported by freewill offerings. If you cannot afford the suggested price, inform us of your situation, and we will be pleased to provide you with whatever you need for whatever you can send.